Miss Mustard Seed's Milk Paint

We've changed our name and have a NEW website! Pop over to check out our new paint page here: http://www.phillipsandchestnut.ca/paint/

Miss Mustard Seed's Products Available Through our Shop:
Miss Mustard Seed's Milk Paint – 100% All natural no VOC's paint available in 18 stunning colours. Use on its own on porous surfaces (like raw wood) or use on smoother surfaces together with Bonding Agent. Can be used as a stain, just mix in more water! Available regularly in 1 qt. size bags which covers approx. 70 square feet (larger sizes available by special order)
1 qt. Milk Paint – $25
30g Tester – $7.50
Miss Mustard Seed's Bonding Agent – 100% acrylic mixture that allows milk paint to bond to smoother surfaces. Also no VOC's. Available in 250ml and soon 500ml sizes
250ml Bonding Agent – $14
500ml Bonding Agent – $20
Miss Mustard Seed's Hemp Oil – This beautiful oil finish provides a protective, water-resistant surface. It can be used on new wood that is bare, stained, milk painted or to revive old wood finishes. It penetrates to protect from the inside out. This food-safe oil finish is perfect for use in the kitchen on wood or stone. This oil is great for those who suffer from chemical sensitivities and cannot use solvent-based products. Be sure to test on a hidden area before using on entire piece to be sure of desired outcome. 500ml covers approx. 60 sq. feet
250ml Hemp Oil – $15
500ml Hemp Oil – $24
Miss Mustard Seed's Furniture Wax – This fine museum-quality wax is based on an old family recipe. Made from beeswax and carnauba wax, it provides a durable finish with a beautiful lustre and is very easy to apply. It is ideal for use on wood, marble, or as a finish over milk paint.
50g Furniture Wax – $16
200g Furniture Wax – $29
Miss Mustard Seed's Antiquing Wax – This is the furniture wax above, only lightly tinted to a rich brown, perfect for creating an authentically aged finish on a piece of furniture or architectural salvage. Creates especially lovely effects on medium to dark colours like Boxwood, Kitchen Scale, or Trophy. Incredible on top of Miss Mustard Seed's red colour: Tricycle.
50g Antiquing Wax – $17
200g Antiquing Wax – $33
Miss Mustard Seed's White Wax – This, also, is the furniture wax above only tinted with white to create a faded, washed, or limed look. Gives soft and stunning results. So pretty on Artissimo, Mustard Seed Yellow, and Apron Strings.
50g White Wax – $17
200g White Wax – $34
Miss Mustard Seed's Wax Puck (for distressing) – this wax puck can be used to act as a resist to paint to aid in achieving the distressed look on furniture. This 100% natural beeswax puck fits easily in your hand for quick and easy application and will allow for quick and easy distressing when using sandpaper or a damp cloth.
Wax Puck – $9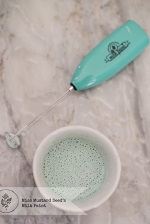 Miss Mustard Seed's Mixer – This electric mixer will quickly and easily mix up your milk paint and gives you a smooth consistency. Plus it's just fun to use! Requires 2AA batteries.
Milk Paint Mixer – $9
Miss Mustard Seed's Furniture Brush – This 1.5″ natural bristle brush is multi-functional and can be used to apply paint or oil. The flat bristles allow you to work paint into tight areas and the natural bristles hold product well.
1.5″ Furniture Brush – $9
Miss Mustard Seed's Medium Paint/Wax Brush – This brush boasts chiseled natural bristles as well as being a multi-use brush. Great for paint or for working in wax or oil. Easy to hold handle.
Medium Paint/Wax Brush – $32